Report generation
Now you can generate pdf report with all your dashboard settings by pressing on "Download PDF" button at the top of the page.


Intent bot answers
Sometimes it's hard to understand exactly what an intent means. To solve this problem, we have added the ability to see which message the bot sends to the user in each intent. Simply click on the question mark next to the name of the intent and you will see the bot's message in a pop-up prompt.


New metrics
Weekly user activity by time of day
Shows user activity during the weekday (hourly). The bigger the bubble, more messages sent by users


Intent traffic
Shows how many times each intent was involved in all conversations per day.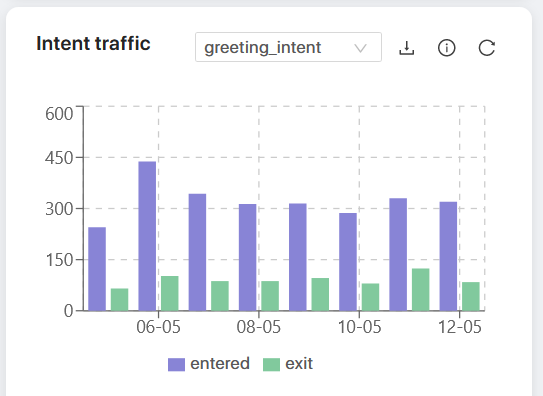 Detailed information on each chart

We updated all chart info texts. They are now more understandable and in some cases provided with examples.


UI improvements

More responsable buttons, new look of chart block